RPG Italia's Staff manage to interview Thomas Veauclin and Sylvain Sechi from Cyanide Studio about their last RPG project: Of Orcs and Men. Here's some new information, the first released trailer and some screens.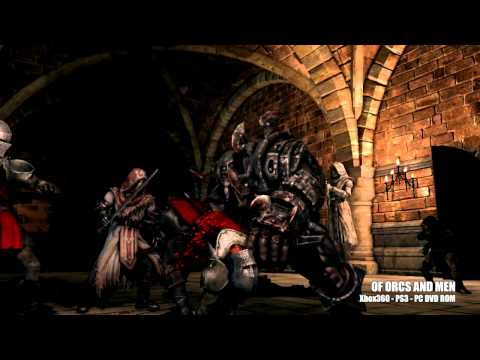 RPG Italia: Can you tell us what kind of game Of Orcs and Men is? What are the famous RPGs closer to his game experience?
Cyanide Studio: Of Orcs and Men is an RPG set in a dark fantasy world where the mature storyline is at the center of the player's adventure. We are big fans of the Mass Effect and Vampire The Masquerade series.


RPG Italia: When the development of the game has started? How many people are working on "Of Orcs and Men"?
Cyanide Studio: The work on the universe, story and gameplay started 3 years ago now, but the proper development really began with Spiders, seven months ago. We're developing "Of Orcs and Men" with the French video game studio Spiders, who are huge RPG fans.


RPG Italia: Can you give us some details about the story, setting and characters? What's the game about?
Cyanide Studio: This is a dark fantasy medieval world. We chose to take familiar themes like orcs, knights & swordplay, but then put a fresh spin on it with mature adult themes. This is how Of Orcs and Men was born. Two heroes are playable in the game, an eight foot tall Orc and a four foot tall Goblin with mysterious histories. They are locked into a deadly mission to save their green-skinned brothers from human genocide.



RPG Italia: We have read this preview by Gamefront. The writer says that Of Orcs and Men's combat system will follow a turn-based combat system or something like that. Can you give us some details?
Cyanide Studio: No, the battle system is in real time, with the option to slow down the game at any time in order to select one of your two playable characters, attacks and give orders.


RPG Italia: We know that we'll be available a small party made up by an Orc and a Goblin. How much is important this dichotomy? Are you thinking about a co-op mode?
Cyanide Studio: The relationship between this duo is crucial to the game; every aspect of the gameplay will incorporate the use of either or both simultaneously. The synergy between the two was really a pillar of the fight. Regarding the co-op mode, we are not convinced that RPGs lend themselves to sharing interactive choices. We felt that it detracted from the player's personal involvement in the game's mythology. Know that we gave this considerable thought. In the end, we decided that simultaneous play did not allow players to fully appreciate the dichotomy of the two unique characters.



RPG Italia: What are the RPG elements? How much important they are in this game? Will be a lot of dialogs and choices?
Cyanide Studio: There will be a character sheet, and the player will have the choice between several classes and stances, which define the offensive skill tree. As they level up, players can customize features, skills and traits. Furthermore, there will be an inventory, a quest diary, a codex and a map.


RPG Italia: Exploration will be free or there will be few limitations like for example Dragon Age – Origins level design?
Cyanide Studio: This is not a "sandbox" game; the exploration will be limited by the level design. But the player will have to explore large areas, with some linear areas and others that are more open.


RPG Italia: Have any film or book inspired your work? The plot looks like very close to Orcs Trilogy by Stann Nicholls.
Cyanide Studio: We are really inspired by movies and novels, the list would be too much long to cite here, but the Stann Nicholls' trilogy was not an influence on the game.



RPG Italia: On which console the game will be available? What about PC?
Cyanide Studio: PlayStation 3, Xbox 360 and PC. The three versions will be exactly the same, gameplay-wise, with different control schemes for console and PC.


RPG Italia: There's already a release date?
Cyanide Studio: Q3 2012